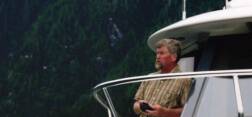 Yacht Owners throughout the Puget Sound area rely on Dan McClure and Yachtkeepers, Inc. for all their yachting needs.

My goal is to ensure your yacht is kept in bristol condition, ready for you to enjoy.

YACHT MANAGEMENT

My clientele entrust me with the complete care and maintenance of their yachts; including regular inspections and the tracking and scheduling of routine maintenance for EVERYTHING on board.  This entails acting as liaison to the best qualified companies for the tasks at hand, checking the boat during heaving weather and performing winterizing where needed.  Safety gear is taken care of, as well as EVERYTHING cosmetic; including washing, buffing, waxing, polishing, varnishing, interior cleaning and provisioning. 

SKIPPERING

I am a 100 Ton Coast Guard licensed captain with over 30 years of experience on power and sailing vessels made up of sea time in the Caribbean, Atlantic Ocean, Chesapeake Bay, Western Rivers and Pacific Ocean.  Based here in Seattle for over 20 years, I have extensive experience on the Puget Sound, San Juan & Gulf Islands and Vancouver Island to Alaska.  I can deliver your yacht to the cruising grounds; ensure that it is clean, fully found and ready to go cruising.  Once you are finished cruising, I can deliver her to the home berth, re-fueled and cleaned up; ready for your next cruise.  I can also run the boat for sea trials to test equipment and to the boat yard for repairs and maintenance.

PRE & POST PURCHASE CONSULTATION

Let me help you find a yacht that best suits your budget, skills and lifestyle.  This includes inspecting the boat before the purchase is made in conjunction with the survey.  I can also operate the boat for surveys and sea trials.  After you purchase, I can help with equipment decisions; including getting the best qualified companies for the task at hand.

YACHTKEEPERS, INC. SERVICE AREA

Seattle Washington, Puget Sound, San Juan & Gulf Islands and Vancouver Island to Alaska

All Rights Reserved

PMB 2288

10002 Aurora Ave. N #36

Seattle, Wa.

98133

206-406-4200

www.yachtkeepersinc.com

Professional Yacht Management

for the discerning yacht owner

Over 30 years experience

Got a question or comment?

Name:

Email:

Question/Comment:

Please contact me and let me know what I can do to help you.  Thanks!

Dan McClure

Captain | Yachtkeepers, Inc.

206-406-4200


206-406-4200            www.yachtkeepersinc.com